#IMadeYourBag
Deutscher Text ist in Kursivschrift weiter unten
The revolution is happening and we are joining it!
Die Revolution findet statt und wir sind dabei!
We love that customers are using their purchasing power responsibly. The industry is being changed by people who understand the social impact of fashion. Let's continue to encourage one another to think and remember that our clothes and bags are all made by someone, somewhere and that they all have the right to a fair wage and safe working conditions.
Wir sind begeistert, dass unsere Kunden ihre Kaufkraft verantwortungsvoll nutzen. Die Industrie verändert sich durch Menschen, die die gesellschaftliche Auswirkung von Mode verstehen. Lasst uns weiter einander ermutigen nachzudenken und uns zu verdeutlichen, dass all unsere Kleidung und Taschen von Menschen produziert werden, die alle ein Recht auf faire Löhne und Arbeitsbedingungen haben.
Here at mimycri, we love answering the question, "Who made my bag?"
Wir bei Mimycri beantworten gerne die Frage "Wer hat meine Tasche gemacht?"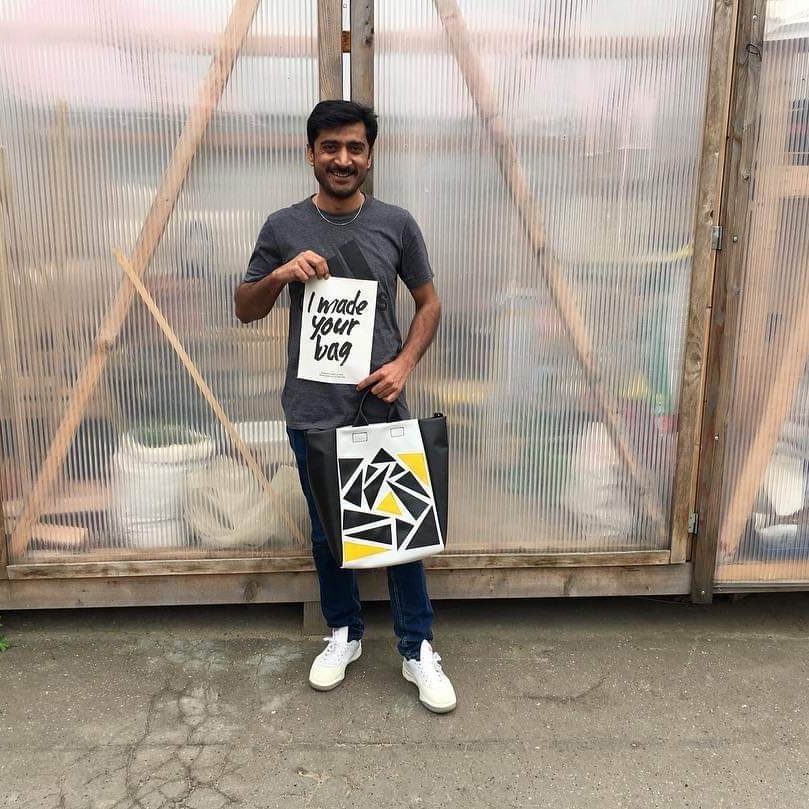 Tailor and designer for mimycri
Meet Abid, one of mimycri's tailors and designers.
He can often be found at cutting fabric, buzzing away on the sewing machine, or sorting through the boat material.
Trefft Abid, einer von mimycris Schneidern und Designern. Meistens trifft man ihn beim Zuschneiden der Materialien, beim eifrigen Nähen oder Durchsortieren der Bootsmaterialien.
I sat down with Abid and learned a little about his story, creativity, aspirations.
Natali: How long have you been in Berlin?
Wie lange bist Du schon in Berlin?
Abid: 3 years and some months.

3 Jahre und ein paar Monate.
Natali: How old were you when you learned to sew? Who taught you how to sew?
Wie alt warst Du als Du Nähen gelernt hast? Wer hat Dir das Nähen beigebracht?
Abid: I was very small, minimum 11 or 14 years. I learned at a textile factory. I first worked at a t-shirt textile factory.

Ich war sehr klein, höchstens 11 oder 14 Jahre alt. Ich habe es in einer Textilfabrik gelernt. Anfangs habe ich in einer T-Shirt Textilfabrik gearbeitet.
Natali: What different fabrics have you worked with?
Mit welchen unterschiedlichen Textilien hast Du gearbeitet?
Abid: I have worked with everything. Cotton, jersey, fleece, lycra, leather, jeans, rubber...everything. At my first job, I learned how to stitch in just four days. I taught myself how to work with different fabrics and also how to fix sewing machines.

Ich habe schon mit allen Textilen gearbeitet. Baumwolle, Jersey, Fleece, Elastan, Leder, Jeans, Gummi… allen. Bei meinem ersten Job habe Ich vier Tage lang Nähen gelernt. Ich habe mir selbst beigebracht mit unterschiedlichen Stoffen zu arbeiten und auch wie man Nähmaschinen repariert.
Natali: How many languages do you speak? Do you have a favorite word?
Wie viele Sprachen sprichst Du? Hast Du ein Lieblingswort?
Abid: I speak maybe 14 different Pakistani languages, Urdu, a little Farsi, Arabic, Turkish, English, and of course German.

"Yaar" which means 'friend' is my favorite Urdu word. Sometimes it means friend or love. We say this so much in Pakistan.

Ich spreche vielleicht 14 verschiedene pakistanische Sprachen, Urdu, ein bisschen Farsi, Arabisch, Türkisch, Englisch und natürlich Deutsch.

"Yaar" bedeutet Freund und ist mein Lieblingswort auf Urdu. Manchmal bedeutet es Freund oder Liebes. Wir sagen das so oft in Pakistan.
Natali: What do you listen to when you're working?
Was hörst Du während Du arbeitest?
Abid: I listen to Pakistani news, politic shows, comedy shows. I only listen to music when I travel to work or home.

Ich höre Nachrichten aus Pakistan, Politik Sendungen, Comedy Sendungen. Musik höre ich nur, wenn Ich zur Arbeit fahre oder nach Hause.
Natali: I know you love to cook. What foods do you like to make? What is your favorite dish?
Ich weiß, dass Du Kochen liebst. Welche Gerichte kochst du gerne? Was ist Dein Lieblingsgericht?
Abid: I do love to cook! Cooking is my second hobby. First is my work, second is cooking. I cook food from so many different countries. But my favorite food to make is Kahari gosht with mutton shoulder or chicken.

Ich liebe es wirklich zu Kochen. Kochen ist mein zweites Hobby. Das erste ist die Arbeit, das zweite Kochen. Ich koche Gerichte aus so vielen verschiedene Ländern. Aber am liebsten koche Ich Kahari gosht mit Hammel oder Huhn.
Natali: How did you get connected to mimycri? How long have you been with mimycri?
Wie bist Du mit mimycri in Kontakt getreten? Wie lange bist Du schon bei mimycri?
Abid: Almost 2 years. I saw a screenshot from mimycri-- they needed a tailor. I took this to a nice woman at Moabit Hilft and she helped me write an email to Nora and Vera. I met them, we ate some nice food, and I explained that I am a good tailor and designer.

Fast zwei Jahre. Ich habe ein Screenshot von mimycri gesehen — sie bräuchten einen Schneider. Ich bin damit zu einer netten Dame bei Moabit Hilft gegangen und sie hat mir geholfen eine Email an Nora und Vera zu schreiben. Ich habe sie getroffen. Wir haben zusammen etwas Leckeres gegessen und ich habe ihnen erklärt, dass ich ein guter Schneider und Designer bin.
Natali: How has mimycri helped you in your move to Berlin?
Wie hat mimycri Dir geholfen bei deinem Umzug nach Berlin?
Abid: I am so happy. Mimycri has helped me so much. I learned so much German here and they help me become better in my German. I am so happy with mimycri. I am so happy with my German family, they have helped me so much!

Ich bin so glücklich. Mimycri hat mir so sehr geholfen. Ich habe hier so viel Deutsch gelernt und sie helfen mir, mein Deutsch weiter zu verbessern. Ich bin so glücklich in mimycri. Ich liebe meine deutsche Familie, sie haben mir so sehr geholfen!
Natali: What are you working on now?
Woran arbeitest Du gerade?
Abid: (holding up green material) This will become a laptop bag. We made this design in October and I have made so many cases since then.

(Hält grünes Material hoch) Das wird eine Laptop Hülle. Wir haben dieses Design im Oktober entworfen und Ich habe seit dem schon so viele Hüllen erstellt.
Abid uses his years of training to transform the boat materials into storytelling mimycri bags. Abid brings much life, laughter, and experience to the team and we're so grateful to have him be a part of the mimyci family!
Abid nutzt seine Jahre der Erfahrung um Bootsmaterial in mimycri Taschen mit Geschichte zu verwandeln. Abid bringt so viel Leben, Lachen und Erfahrung mit ins Team und wir sind so dankbar ihn als Teil unserer mimycri Familie zu haben!
If you love our mimycri laptop case as much as Abid loves making them, use the code WHOMADEMYLAPTOPSLEEVE for a 10% discount over the next 7 days!
The promotional code can be used from 28 November at 11am and to 7 December at 11am!
Wenn ihr unsere Laptop Hüllen genauso sehr liebt wie Abid, sie herzustellen, benutzt unseren Code WHOMADEMYLAPTOPSLEEVE und bekommt innerhalb der nächsten 7 Tage einen 10% Rabatt. Der Code ist vom 28. November bis zum 7. Dezember 11 Uhr gültig!